I originally wrote this for my site, but, why not bring it on over here? :)
I wrote down this information from an old article I read somewhere. It's basically a summary of it.
How to keep your jewelry and jewels lasting longer:
Gold
Dip in sudsy water. If your gold is not
pure
gold, add a few drops of ammonia and brush gently. If you are unsure whether your piece is not pure gold, take to a jeweler for examination, and/or polishing.
Platinum
Dip in sudsy water.
Silver
Use a silver specified cleaning cloth. Rubbing with towel paper or any other kind of paper other than silver cleaning designed cloth, can cause scratches.
Keep your jewels lasting longer with these techniques.
Peridot, Sapphire, Tanzanite, Amethyst, Ruby
Separate them to avoid scratching. Immerse in mixture off warm water and mild dishwashing liquid (softener-free). Scrub with a baby toothbrush-gently, rinse, and let dry.
Emerald
Dip emeralds in room temperature water, brush gently with a baby toothbrush and let dry. Never use warm or soapy water because most emeralds have tiny cracks that are filled with oil and may make the cracks more noticeable. Have your emeralds reoiled by a jeweler every couple years.
Opal
Use a soapy but soft cloth and rinse. Be careful with handling and storing these stones because of their prone to chip. Opals need to absorb moisture from air because of their ability to chip, so store them in a jewelry box that you open a lot. Do not place in airtight spaces that are never opened.
Turquoise
Wipe with a soft dry cloth. Never use a cleanser, since the stone is porous, it could absorb the fluid and become discolored. Clean turquoise frequently so it doesn't discolor. Turquoise can also discolor with too much sun.
Pearl
Real, cultured, and faux pearls are all fragile and lose luster quite easily. Apply perfume/makeup before putting on a pearl necklace, bracelet, etc. Wipe your pearls with a soft moist cloth after each wearing to rid it of and residue due to cosmetics, etc. For a thorough cleaning dip a baby toothbrush in a mix of mild soap, and warm water. Scrub your pearls and wipe with a wet cloth. Lay the strand flat to prevent string from stretching. Expensive pearls should be examined every couple months by a jeweler to determine if they need restringing.
Amber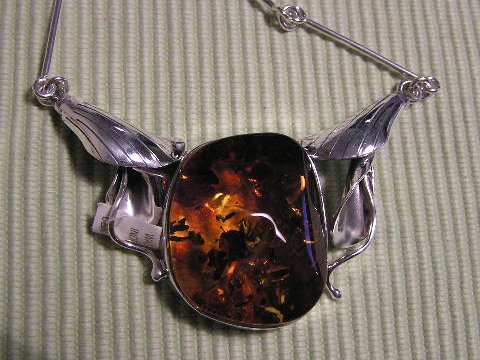 Use a water moistened cloth. NEVER add soap it can dull the gem.